Harbour's Managing Director Andrew Bascand and Senior Research Analyst Oyvinn Rimer travelled to Denver, Colorado for the Retail Outdoor conference.
Why did we attend the Outdoor Retailer Winter Market?
The Outdoor Economy in the U.S. alone is 3x bigger than the entire GDP of New Zealand
The Outdoor Economy is growing and is a source of global growth
Trade war and tariffs are impacting on the Outdoor Economy directly
Innovation and wide-spread demographic participation characterise this industry
We are significantly invested in Kathmandu, which used the Outdoor Retailer Winter Market as a launchpad for its U.S. business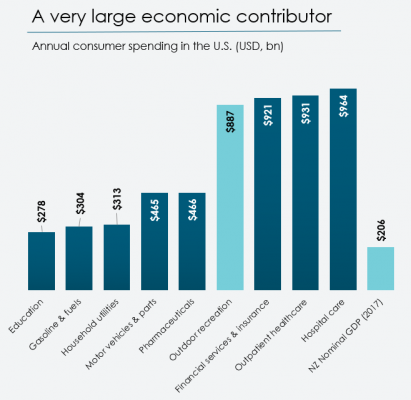 Source: Outdoor Industry Association - Full State Recreational Report (Colorado)
Outdoor Retail: The state of the sector in the US
According to sitting Governor (John Hickenlooper), Colorado is the only state where people get up earlier on the weekend than on a weekday as they are so excited about getting outdoors. Colorado is taking advantage of this and is quickly becoming a hub for companies in the outdoor retail industry. The Governor has been very active in facilitating company moves to the state.
The industry has a wider importance too. From a macro perspective, the outdoor economy in the U.S. is worth almost US$900bn and, in the state of Colorado, employs 4 times the number of people as the oil and gas industry. Industry growth means more politicians are paying attention and tailoring more supportive policy agendas to suit. This support is more bi-partisan than most pressing issues in the US. The rural-urban divide is systemic in pretty much every state in the U.S. and the outdoor retail (OR) industry is a key force which drives these communities closer together – Colorado is taking a lead.
The OR industry has a specific set of policy issues and areas directly impacted by protection of the environment. One interesting insight from the Retail Outdoor Conference was how the industry has successfully connected with voters and politicians using the subtleties of linguistics. Whilst a large part of the voter-base does not believe in climate change, they are often passionate about wanting less air pollution and to conserve public land. The use of the 'right' words makes all the difference and the industry is now coming together to lobby Washington for positive environmental change through more inclusive messaging.
The outdoor retailer market has been a key focus in the political sphere in Colorado. #votetheoutdoors was the industry's campaign driven by the outdoor industry association (OIA) for the mid-terms to get some political sway behind the importance of protecting public land. The industry has endorsed 23 candidates running for public office on both sides of the political spectrum where they have central agendas of protecting public land, encouraging trade, supporting the outdoor economy and fighting climate change. The outdoors brings bi-partisan collaboration.
Trade war and tariffs
Trade war and tariffs were also brought up in the Conference as key drags on the OR industry, and there is significant cost-push coming for the U.S. labels (which are often highly reliant on Chinese manufacturing), with current tariffs already up towards 40% for popular materials. Gore-Tex (high-end technology used in both apparel and footwear) is now >37.5% more expensive and likely to go higher again at the next round of tariffs. The ability of passing these costs onto consumers looks limited and could impact on the performance of the industry.
The OIA is encouraging members to have contact with town, county, state and house representatives to inform them of all the negative impacts that these tariffs are having on firms and sectors. We don't believe that these tariffs can be passed onto consumers 1-for-1, which may squeeze exposed retailer's margins.
Oboz and Kathmandu – the runway for long-term growth
In early 2018, kiwi outdoor retailer Kathmandu purchased Montana's Oboz Footwear after working together for over ten years. We met with the founder of Oboz and the head of US Kathmandu, to discuss developments and hear about their growth plans.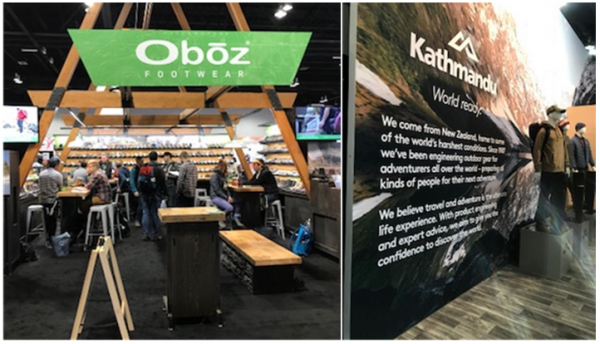 Source: Harbour
Oboz has a strong presence in the US OR market. They base their business on Quality, Service, Comfort and Fit (not price). All their manufacturing is done in Vietnam, in a factory which holds Fair Labour Association (FLA) certification for workers – meaning they are not impacted by the trade wars with China.
Sustainability is core to their vision, in keeping with Kathmandu.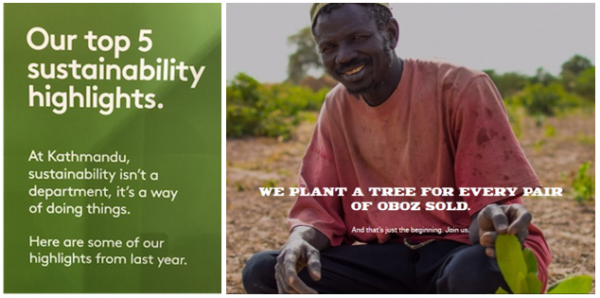 Source: Kathmandu, Oboz
Oboz works with Plant Trees for the Future in the US and Africa. They are working with the largest outdoor retailer in the U.S., Recreational Equipment Inc (REI), on local initiatives for conservation and sustainability.
We are very excited about the Oboz introduction into the Kathmandu business. It is obvious that Oboz has built a strong foundation to take the brand forward. We visited multiple outdoor retailers and enquired about what hiking boots are the best. The sales staff did not know our affiliations and, unprompted, recommended Oboz as an excellent product to try.
Interestingly, most boot shoppers walk into a store with a pre-conceived idea of what they will be buying, but with guidance from sales staff often walk out with a different product. Particularly in the technical hiking boot segment, fit and comfort are two absolute key decision criteria (design and price are secondary). Customers with one pair of Oboz shoes are likely to buy a second and third pair as well.
REI is the most important retailer for Oboz (and if you are ever visiting a U.S. city with an REI, please swing by to have a look – these are very impressive stores), however Oboz also has strong wholesale distribution into other retailers in the U.S., and also sells into Canada where they mainly sell through Mountain Equipment Co-op.
Given Oboz's strong distribution (including REI), there is a good chance that Kathmandu can leverage this as they launch in the U.S. market. Kathmandu certainly can bring expertise in supply-chain, design, analytics and sustainability to the table, which ought to benefit both Oboz, the retailers (like REI) and eventually Kathmandu as they connect with the U.S. consumer.
Pleasingly, Kathmandu's persistent focus on sustainability is now becoming a focal point for consumers and retailers. Kathmandu is recognised as a world leader in sustainability efforts and this is a key point of difference that they can draw on to connect with customers in the U.S. market.
Unlike Kathmandu, Oboz does not have a widespread customer loyalty programme and this is an obvious area where Kathmandu's experience can provide synergies. Understanding customers wants and needs and to have a good insight into the potential preferences of your buyers is a powerful tool and we expect there to be significant learnings to take from Kathmandu.
At the show, one of the data analytics providers showed Oboz as now being the number 1 selling hiking boot brand in the U.S. (in the category over $150) – this covered the spring and summer season in the U.S. This significantly exceeded our expectations.
Our overall impression of Oboz is particularly favourable. The Oboz-Kathmandu relationship looks to be on a very sound footing and nothing we saw would reduce the runway for long-term growth in the US market.
IMPORTANT NOTICE AND DISCLAIMER
Harbour Asset Management Limited is the issuer and manager of the Harbour Investment Funds. Investors must receive and should read carefully the Product Disclosure Statement, available at www.harbourasset.co.nz. We are required to publish quarterly Fund updates showing returns and total fees during the previous year, also available at www.harbourasset.co.nz. Harbour Asset Management Limited also manages wholesale unit trusts. To invest as a Wholesale Investor, investors must fit the criteria as set out in the Financial Markets Conduct Act 2013.
This publication is provided in good faith for general information purposes only. Information has been prepared from sources believed to be reliable and accurate at the time of publication, but this is not guaranteed. Information, analysis or views contained herein reflect a judgement at the date of publication and are subject to change without notice. This is not intended to constitute advice to any person. To the extent that any such information, analysis, opinions or views constitutes advice, it does not take into account any person's particular financial situation or goals and, accordingly, does not constitute personalised advice under the Financial Advisers Act 2008. This does not constitute advice of a legal, accounting, tax or other nature to any persons. You should consult your tax adviser in order to understand the impact of investment decisions on your tax position. The price, value and income derived from investments may fluctuate and investors may get back less than originally invested. Where an investment is denominated in a foreign currency, changes in rates of exchange may have an adverse effect on the value, price or income of the investment. Actual performance will be affected by fund charges as well as the timing of an investor's cash flows into or out of the Fund. Past performance is not indicative of future results, and no representation or warranty, express or implied, is made regarding future performance. Neither Harbour Asset Management Limited nor any other person guarantees repayment of any capital or any returns on capital invested in the investments. To the maximum extent permitted by law, no liability or responsibility is accepted for any loss or damage, direct or consequential, arising from or in connection with this or its contents.