The Harbour Investment Outlook summarises recent market developments, what we are monitoring closely and our key views on the outlook for fixed income and equity markets.
The MSCI All Country World (global shares) Index fell -4.9% in USD in January, and with the New Zealand dollar weakening in the past month, the same Index fell -0.9% in NZD terms over the month.
The New Zealand equity market (S&P/NZX 50 Gross with imputation) finished the month down ‑8.8%, whilst the Australian equity market (S&P ASX 200) fell -6.4% over the month (-5.3% in NZ dollar terms).
The New Zealand 10-year bond yield rose to 2.60% from 2.39% during January, while the US 10‑year bond yield rose from 1.51% to 1.78%. These moves led to global bond indices declining over the period.
A sharp lift in interest rate expectations and strong inflation prints contributed to a broad 'risk off' move in markets. The pricing of high growth stocks was hit hard, albeit hardly any company was spared by the broad market sell-off.
Key developments
Global equity markets were weak and volatile over the month as they rapidly repriced higher interest rate expectations with the US Federal Reserve (Fed) taking on a more 'hawkish' (less accommodative) monetary policy stance. Markets have now priced in more than four rate hikes by the Fed over 2022 and an end to quantitative easing (QE) earlier than expected. The higher cost of capital with the higher rates contributed to violent industry sector rotations, with the higher growth spectrum of the equity market particularly hard hit. Increasing geopolitical risk contributed to a spike in oil prices. Further easing in Chinese lending policies provided some support for commodity prices and resource stocks.
The higher growth information technology and healthcare sectors were the weakest New Zealand and Australian sectors whilst materials and communications were the least negative New Zealand sectors over the month. In Australia, energy, utilities, and materials were the best-performing sectors over the month.
Interest rate markets started the year with further rises in yields, led mostly by shifts in offshore central bank policy signals. While the Reserve Bank of New Zealand (RBNZ) has been at the forefront of policy tightening, other central banks are steadily shifting in the same direction. Yields rose fairly consistently across all maturities, causing benchmark index performance to be negative.
During January the recent global economic themes of strong demand, tight labour markets and inflation pressure continued. The longevity of this environment is affecting the policy stance of most central banks in the western world. The Fed has been the most recent to articulate a clear shift towards seeing the reduction of easy policy as appropriate. The notable exceptions have been China and Japan.
The inflationary theme has been apparent in New Zealand for several months now and the tightening cycle is well underway. Market discussion is centred on how far the RBNZ will have to go before rate hikes are felt sufficiently strongly to quell rising inflationary expectations.
Globally, a surprisingly hawkish Fed has encouraged further increases in short-term interest rates over the past month. The Fed's January meeting confirmed that QE will end in early March and that the Committee believes it will soon be appropriate to start raising rates. Fed Chair Powell also indicated a belief that the labour market could withstand substantially higher interest rates. The market is now pricing five rate hikes for 2022 and for the Fed Funds rate to reach 1.8% by the end of next year, versus pricing of three hikes at the end of 2021, Other central banks have recently followed this hawkish lead with the Reserve Bank of Australia (RBA) ending its QE programme at its February meeting, though it maintained that this does not imply a near-term increase in interest rates. Financial markets are again calling the RBA's bluff by pricing 1.0% of rate hikes this year. The Bank of England raised rates again by 0.25% to 0.50% and markets price a further 1.0% of hikes this year. China remains the exception by incrementally easing policy recently in response to a slowing economy and property sector weakness.
There may be more room for global rates to rise. Despite exceptionally high inflation and historically low unemployment rates, market-implied tightening cycles don't suggest a move into restrictive policy settings. Omicron is disrupting near-term activity, but above-potential growth should continue to remove excess capacity and add inflation pressure for most of the world. In the US, for example, most estimate the neutral Fed Funds rate is 2.0-2.5%, yet the market only prices a move to 1.8% by the end of next year. Real rates also remain negative. The average real interest rate over the next ten years, for example, is negative in most developed countries. This creates asymmetric risk, in our view, of higher real yields or higher inflation – two themes we explore in our Top 10 risks (and opportunities) for 2022.
Supply chain disruption is showing some initial signs of easing as most of the world learns to live with COVID-19, but energy prices are adding to inflation pressure. Global shipping costs, measured by the Baltic Dry index, have reduced slightly in recent months and prices paid by US manufacturers have moderated. Energy prices, however, rebounded in January on rising tensions between Russia and Ukraine.
What to watch
Market pricing of New Zealand interest rates implies seven 0.25% hikes by the RBNZ this year, but will they deliver? New Zealand inflation reached a 31-year high of 5.9% and the unemployment rate fell to an all-time low of 3.2% at the end of last year – confirming the need for tighter monetary policy. The RBNZ has more than met its twin inflation and full-employment objectives. It is providing too much stimulus to an economy that fared well through last year's lockdowns and the economy has very little spare capacity. Markets are fully on board with the need for tighter monetary policy, pricing an aggressive RBNZ tightening cycle that doesn't appear to allow for downside risks. Markets currently imply the OCR to reach 2.5% and 2.8% by the end of 2022 and 2023, respectively. The economic outlook, however, remains uncertain. Omicron is likely to be highly disruptive for businesses, while deteriorating business and consumer confidence and falling house prices could foreshadow a slowing pace of tightening from the RBNZ.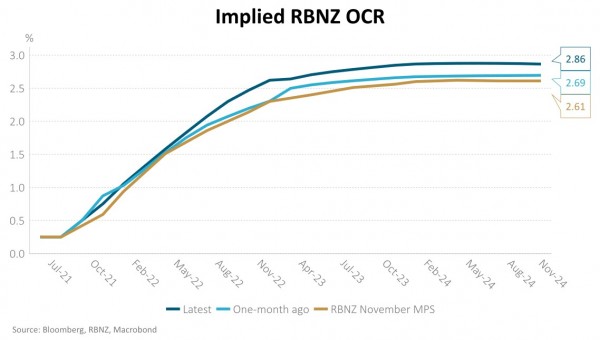 Market outlook and positioning
The US Fed is no longer 'friendly' for capital markets and is biased to restricting money flow until inflation proves to be transitory or otherwise. Already in early February interest rate increase expectations are moderating with US Fed speakers cooling expectations of a 0.5% rate hike in March, and other central banks, including the RBA, taking a more measured approach to removing low interest rate settings. Capital market strategists have moved away from flagging the potential for positive real US rates and are now landing at zero to slightly negative real rates, which is 'less bad' for long duration, high growth stocks than the positive real rate discussions of January.
The outlook for interest rates is just one side of the story for the equity market; yes, valuations might fall, but trends in corporate earnings are a more dominant long-term factor for equity returns. The key reason for investing in equities is to generate real wealth. Compounding remains the friend of equity investors. Over the medium term, companies that generate consistent revenue and dividend growth overcome the hurdle of interest rate moves. Higher earnings do not prevent periods of under-performance or market corrections. Valuations across the market have fallen more for growth-oriented stocks such as technology companies. Most growth stocks – companies that are generating double digit revenue and earnings growth – experienced a significant valuation de-rating in 2021. Equity market pricing has fallen back to more reasonable levels relative to higher inflation and potential high single digit earnings growth. More speculative investment has been 'cleaned out' of stock markets and leverage has been reduced. As a result, stock markets may have been de-risked to a degree. A more discerning bid is emerging in higher-growth technology stocks, with investors focusing on established quality, growth at reasonable price technology stocks with proven organic growth that are beating expectations. But emerging companies that are struggling to deliver consistent revenue remain under pressure.
The old adage is that stock markets go down by the elevator (quickly) and up by the stairs (slowly). We may now be in a period where the market will grind its way back up with periods of two steps up and one back as central banks take away liquidity and economic growth cools. In our view, reconfirmation of earnings growth and the trend of earnings results beating conservative expectations is key to the 'two steps up' part of the adage. Earnings historically offer the strongest support to equity returns during times of unease and, as central banks shift stance, we expect earnings to have a bigger influence on stock prices.
Within equity growth portfolios we continue to favour stocks that benefit from disruption, digitisation, demographic change and de-carbonisation (the 4 Ds). We are focused on investing in companies that are cash-generative and well-capitalised. As the rate of economic growth slows from elevated to more normal levels, we believe that stocks that are negatively exposed to the 4Ds or are poorly capitalised are likely to be de-rated. Strong balance sheets will become even more valuable as central banks reduce money supply, providing the basis for value-adding organic growth, earnings-enhancing merger and acquisition activity or stock buybacks when other options are less compelling.
Within fixed interest portfolios, our strategy is overweight bonds in the 0 – 3-year maturity range, as we see scope for the RBNZ to possibly hike less quickly than is priced into markets, while we are underweight select longer-dated bonds which not only look expensive in our valuation models, but are also vulnerable to the rise in global bonds yields that we expect to see. We retain holdings in inflation-linked bonds, but at a lower exposure level than we held in early 2021. The RBNZ's inflation projections have CPI inflation averaging around 3.2% through to late 2025, while the inflation-linked Government Stock issue maturing then only assumes inflation to be 2.6%, which we view as an attractive premium.
Within the Active Growth Fund, we have used the recent bounce back in some of our global equity strategies to, at the margin, reduce our allocation and reinvest the proceeds into strategies we believe will weather near-term interest rate focused markets, better. One of the strategies we've increased allocation to is our Real Estate Investment Fund. Real estate securities are currently trading at an attractive dividend yield spread to bond yields, are typically able to reclaim inflation in their rents, trading at fair valuations, and we see scope for M&A within the sector. We like infrastructure for similar reasons. Another region we increased our allocation to in December was Asia ex-Japan and the fund we are invested in navigated the volatility in January strongly. We view Asia as one of the undervalued parts of the markets with scope for upside. The drivers we see of this upside in 2022 are the Chinese Government easing policy (when the rest of the world is tightening), valuations compared to developed markets are extremely cheap and, unlike 2021, where policymakers were focused on reform, attention appears to have moved on somewhat.
Within the Income Fund, we are currently neutral in equities, with a lower-than-normal exposure to 'growth' equities. Within fixed interest, we are underweight longer-dated securities and retain a holding in inflation-indexed bonds. Going forward, our bias is to sell into strength in equities and bonds, reducing risk in the portfolio. There will be a tactical aspect to our approach, as we expect the market to exhibit a degree of volatility, as opposed to outright declines in value.
IMPORTANT NOTICE AND DISCLAIMER
Harbour Asset Management Limited is the issuer and manager of the Harbour Investment Funds. Investors must receive and should read carefully the Product Disclosure Statement, available at www.harbourasset.co.nz. We are required to publish quarterly Fund updates showing returns and total fees during the previous year, also available at www.harbourasset.co.nz. Harbour Asset Management Limited also manages wholesale unit trusts. To invest as a Wholesale Investor, investors must fit the criteria as set out in the Financial Markets Conduct Act 2013. This publication is provided in good faith for general information purposes only. Information has been prepared from sources believed to be reliable and accurate at the time of publication, but this is not guaranteed. Information, analysis or views contained herein reflect a judgement at the date of publication and are subject to change without notice. This is not intended to constitute advice to any person. To the extent that any such information, analysis, opinions or views constitutes advice, it does not take into account any person's particular financial situation or goals and, accordingly, does not constitute financial advice under the Financial Markets Conduct Act 2013. This does not constitute advice of a legal, accounting, tax or other nature to any persons. You should consult your tax adviser in order to understand the impact of investment decisions on your tax position. The price, value and income derived from investments may fluctuate and investors may get back less than originally invested. Where an investment is denominated in a foreign currency, changes in rates of exchange may have an adverse effect on the value, price or income of the investment. Actual performance will be affected by fund charges as well as the timing of an investor's cash flows into or out of the Fund.. Past performance is not indicative of future results, and no representation or warranty, express or implied, is made regarding future performance. Neither Harbour Asset Management Limited nor any other person guarantees repayment of any capital or any returns on capital invested in the investments. To the maximum extent permitted by law, no liability or responsibility is accepted for any loss or damage, direct or consequential, arising from or in connection with this or its contents.