One Think Big Project leaves – another to begin?
Electrification of industrial and process heat makes sense
Pumped storage would be a massive project, but could help achieve the Government's 100% renewable objective
Substantial challenges remain in terms of cost, engineering, and resource consenting
Scoping study results unlikely to be published quickly with sector uncertainty to remain in the short term
With the Rio ingots barely having had time to cool, the Government made two potentially important announcements over the weekend.
Firstly, and perhaps of more near-term importance, the Government announced that it is going to spend $70m enabling the electrification of industrial and process heat in the lower South Island, with transmission upgrades and direct assistance in the conversion of coal boilers to electricity. Outside of this statement, the details provided have been few, however we would view this announcement as a positive in really kick-starting the conversion and decarbonisation process. With New Zealand's Aluminium Smelter (NZAS) typically consuming around 5000 GWh of electricity, converting coal-run milk drying facilities to electricity would help offset this loss of demand and, with facility locations also being in the lower South Island, provide an efficient match outside of any transmission upgrades. The key limits for uptake will be the overall economics of conversion and appetite from the likes of Fonterra and others to make these investments.
The second announcement by the Government, is funding a $30m scoping study to investigate pumped hydro, for what would be a massive scheme, at Lake Onslow in the lower South Island. The project could potentially be the world's largest pumped hydro storage, with capacity to store 5000gwh, which would be more than double New Zealand's existing hydro storage.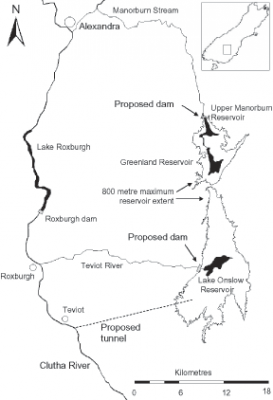 Source: Earl Bardsley; Note on the pumped storage potential of the Onslow-Manorburn depression
The basic concept would be to fill the lakes when demand is low, and then use the water to generate in times of dry year risk. It would likely have 1200 MW of generation capacity (which is larger than the current Waikato hydro system) and would take six months of continuous running to drain.
A project of this scale could satisfy the Government's objective of 100% renewable electricity generation, however would likely come at a significant cost to achieve this target, with a number being reported of about $4bn, and being described as the largest New Zealand infrastructure project since the 1980's.
Location of the project will provide challenges. It will likely be an engineer's dream, a project this size, however challenges for resource consenting and Central Otago's schist rock are not necessarily the easiest for tunnel construction.
Transmission upgrades will still be required, as they are with the NZAS departure, with the key network links needing capacity upgrades to get the electricity from the lower South Island, to where the demand and population growth currently is, in the upper North Island.
Whilst this project could ensure New Zealand becomes 100% renewable in our electricity generation, it would likely come at a significant cost to taxpayers, with commercial interests unlikely to make it economic without government assistance. It will also have major engineering and resource challenges to navigate. However, maybe this is bold thinking by the Government in setting up the country for the future.
What does it mean for the sector?
There is still a lot of unknowns with these new initiatives and any outcomes of the scoping studies are likely to be long dated. In the short term the uncertainties in the sector will remain on the timing of the NZAS exit and what it means for company earnings and dividends, but in the medium term the electrification of industrial heat load can be seen as a positive not only for the sector but also for New Zealand's contribution to decarbonization.
It remains, however, that transport and agriculture are the largest emitters in New Zealand. Perhaps we could see greater initiatives in this space that make more economic sense if, as a country, we want to make a meaningful contribution to reducing our CO2 exposures.
IMPORTANT NOTICE AND DISCLAIMER
Harbour Asset Management Limited is the issuer and manager of the Harbour Investment Funds. Investors must receive and should read carefully the Product Disclosure Statement, available at www.harbourasset.co.nz. We are required to publish quarterly Fund updates showing returns and total fees during the previous year, also available at www.harbourasset.co.nz. Harbour Asset Management Limited also manages wholesale unit trusts. To invest as a Wholesale Investor, investors must fit the criteria as set out in the Financial Markets Conduct Act 2013. This publication is provided in good faith for general information purposes only. Information has been prepared from sources believed to be reliable and accurate at the time of publication, but this is not guaranteed. Information, analysis or views contained herein reflect a judgement at the date of publication and are subject to change without notice. This is not intended to constitute advice to any person. To the extent that any such information, analysis, opinions or views constitutes advice, it does not consider any person's particular financial situation or goals and, accordingly, does not constitute personalised advice under the Financial Advisers Act 2008. This does not constitute advice of a legal, accounting, tax or other nature to any persons. You should consult your tax adviser in order to understand the impact of investment decisions on your tax position. The price, value and income derived from investments may fluctuate and investors may get back less than originally invested. Where an investment is denominated in a foreign currency, changes in rates of exchange may have an adverse effect on the value, price or income of the investment. Actual performance will be affected by fund charges as well as the timing of an investor's cash flows into or out of the Fund. Past performance is not indicative of future results, and no representation or warranty, express or implied, is made regarding future performance. Neither Harbour Asset Management Limited nor any other person guarantees repayment of any capital or any returns on capital invested in the investments. To the maximum extent permitted by law, no liability or responsibility is accepted for any loss or damage, direct or consequential, arising from or in connection with this or its contents.